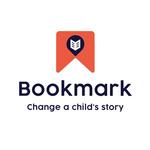 Bookmark Reading is on a mission to help children gain the reading skills they need to succeed in school and beyond, by creating flexible volunteer opportunities at the heart of our community.

ABOUT US:
Bookmark Reading is a literacy charity helping children develop the reading skills they need to succeed in school and beyond by creating flexible volunteering at the heart of our communities. We link schools to local volunteers who can provide extra reading support to children who need it. On the Bookmark App volunteers are able to pick sessions that suit them, making it easier than ever to fit volunteering around other commitments whilst changing a child's story.
WHY OUR WORK MATTERS:
More than 1 in 4 children leave primary school in England each year unable to read to the expected standard and this number is even higher amongst disadvantaged children. When young people do not gain the reading skills they need it has a huge impact on their lives. Low literacy levels can reduce confidence, inhibit progress in other subjects and narrow future opportunities. At Bookmark, we know that reading is not just about attainment on paper. Bookmark volunteers encourage the children they work with to read for pleasure by engaging with literature that suits their own interests. By talking about books and discovering their own taste, children are able to expand their vocabulary and imagination. They are better prepared to articulate their own thoughts and feelings, helping them to grow and express themselves throughout their lives.
OUR VALUES:
We have heart, We care deeply about what we do; it is our driving force We believe in the potential of all children and the power of communities to support them. We fuel our work with optimism and a positive energy, supporting each other through challenges and celebrating our achievements
We are curious. We are interested and constantly learning so that we can adapt to improve the support we provide We ask questions and contribute outside of our specialties to develop great ideas We have the courage to challenge the norm in search of a better alternative
We are a team We work together with our volunteers, schools, partners and supporters We embrace diversity and celebrate differing perspectives and backgrounds We listen well and communicate clearly to seek understanding and achieve better outcomes
We act with integrity We are trusted to always keep safeguarding at the heart of what we do We are honest and open within our teams and across our communities We are professional and hold the highest expectations of ourselves and one another
We make it happen We work hard – and smart – to fulfil our promises and make an impact We are proud of what we have achieved and we know there is always more to do We each play an important role in Bookmark's story and consider how our actions impact the charity's vision
THINGS WE ARE PROUD OF:
Having launched with our pilot last year we have now delivered 54 programmes to children across London. We are growing fast and are launching in 12 new schools from September 219.
We are really proud of the volunteers we have worked with this year, especially our student volunteers who have been come of the most creative and committed members of Bookmark. Here is some feedback from a student Bookmarker who started this term: I used to hate reading as a kid, which is ironic considering that it is now one of my favourite things to do. It has therefore been really great engaging with reluctant readers, as it has reminded me of how far I have come and the transformative impact reading has had on my education. I am excited to be able to give something back by helping kids to develop a keen interest in books.
WHAT WE LOOK FOR IN OUR PEOPLE:
A superstar Bookmaker is friendly, approachable and is aware of the importance that learning to read can have on a persons life. They are able to have fun in the sessions whilst listening to any concerns of the child they work with. Through discussions with their reader, they are able to discover the interests of the child and they bring in books and other material from their library, to help the child enjoy reading. They are open minded and do not make assumptions about a child.
HOW WE ARE DIFFERENT:
Our unique Bookmark App gives volunteers more flexibility and control than traditional opportunities. On the app, volunteers can look for programmes within their chosen radius (1 mile / 2 miles) and see which schools in their community need support. They can also pick sessions at times and dates that work for them as well as interact with teachers and rearrange sessions when the need arises. Volunteers commit to just 30-minute sessions twice a week for 6-weeks. Many people want to volunteer but don't have the time. Our system makes it possible for anyone to make a difference to a child's life, whilst working volunteering around their other commitments.