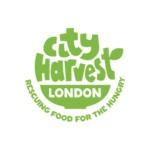 Rescuing quality food for the hungry.

ABOUT US:
City Harvest is London's first 'last-mile' food redistribution charity; we rescue and distribute surplus food across London to those who need it most!
Distributing over 200,000 meals a week to over 350 London community projects, including homeless shelters, soup kitchens, children's programmes, mental health support schemes, and refuges, our volunteers are the life and soul behind what we do, helping to sort the amazing food donations we receive, ready for distribution!
Our mission has two parts; to reduce waste and to feed the thousands of Londoner's in need, and it is this combination of social and environmental consciousness that sits at the core of our charity.
WHY OUR WORK MATTERS:
Through the work of City Harvest, over 8,000 tonnes of surplus food has been distributed to over 350 amazing organisations that support people facing obstacles including food poverty, homelessness, and domestic abuse.
To date, we have served over 22 million meals and prevented over 25,000 tonnes of CO2 emissions from being released, simply by diverting food from landfill and allowing produce to fulfil its destiny of being eaten rather than wasted!
By volunteering for City Harvest, you will have the chance to make direct positive impact on thousands of vulnerable people in London by giving them the opportunity to access a nutritious meal.
OUR VALUES:
Sustainability
Food Poverty
Community
OUR AWARDS:
Urban Food Award - Surplus Superstar
London Living Wage Employer
WHAT WE LOOK FOR IN OUR PEOPLE:
We do not require any specific skills or qualifications, just a willingness to lend a hand and get involved in all our volunteering activities!
We require our volunteers to be team players, kind and open-minded, with a keen interest in helping others and making the world a better place for all!
HOW WE ARE DIFFERENT:
At City Harvest, we value community; be that the community of volunteers and staff, charities and organisations that we partner with, and the community of people receiving our food. 
We specifically build these relationships, so that we can understand the varying needs of different community projects and provide individual support in order to help them in the way that they need.