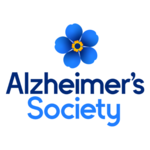 At Alzheimer's Society we're working towards a world where dementia no longer devastates lives. We do this by giving help to those living with dementia today, and providing hope for the future.

ABOUT US:
As a Society, we are made up of people with dementia, carers, trusted experts, campaigners, researchers and clinicians. We are the UK's largest collective force of people with unparalleled knowledge and over 40 years of experience addressing the biggest challenges facing people living with dementia.
WHY OUR WORK MATTERS:
Dementia is the biggest health and social challenge of our time. There are currently estimated to be 900,000 people in the UK with dementia. Many are undiagnosed and facing the realities of their condition alone. As a Society, and with the help of our supporters, we're changing that.
With your help we can give vital support to those who need it most, hold decision-makers to account, and fund groundbreaking research to transform the future for everyone living with dementia.