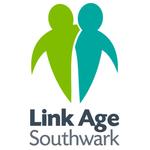 Link Age Southwark's vision is of friendly, vibrant local communities where older people thrive. Our mission is to help older people stay connected with their communities, alleviating loneliness, improving health and wellbeing, and making communities stronger through volunteering.

ABOUT US:
Link Age Southwark is a vibrant local charity providing friendly volunteer support to people aged over 60 in the London Borough of Southwark.  
We work to reduce loneliness and isolation and help older people and those living with dementia to maintain active lives in the wider community. Our fantastic volunteers bring joy to people's lives and support older people to thrive in later life. 
WHY OUR WORK MATTERS:
We currently support over 700 older people and people living with dementia with the support of 400+ amazing volunteers. Between 2020 and 2021, we matched 90 older people to a volunteer befriender, bringing our total number of befriending relationships to 237. We had to adapt our social, exercise and activity groups offer and we set up 7 online groups, which met 196 times over the year. Towards the end of 2021 we were delighted to have a number of in-person groups back up and running with plans to reintroduce more in 2022. 
We conducted our annual survey in 2021 to ask the older people we work with what impact our services have on their lives. They told us they feel less lonely, are more connected to their community and feel better able to manage living in their own homes, as a result of using our services.