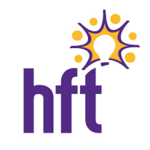 Our mission is to work in partnership to achieve the best outcomes for the people we support. We do this by putting people at the centre of everything we do. We work collaboratively with them to provide services that are creative, innovative and sustainable. Our specialist teams use their skills and expertise to deliver services to people including those with the most complex of needs. We are passionate about what we do, and use our unique understanding of the challenges facing the people we support to speak up with them to bring about positive change.
ABOUT US:
Organisation aims / mission / values
Hft is a national charity supporting people with learning disabilities and their families.
Our London division is based in Barnet where we support around 40 people.
Everything we do focuses on helping the people we support live the best life possible.
How we deliver these aims
Working in partnership with our service users and those that know them well to create flexible services that meets their needs, whether they need a lot of support, or just occasionally. Where possible, involving them in deciding who supports them so they have the opportunity to do things they like, whether that's meeting new friends, developing hobbies, working or volunteering.
WHY OUR WORK MATTERS:
We believe in a world where anyone with a learning disability can live within their community with all the choice and support they need to live the best life possible.
OUR VALUES:
We have the courage to listen, speak up and take action
We care about how we work in partnership with others
We are all unique and our differences make us stronger
We are always looking for the best ways of doing things
WHAT WE LOOK FOR IN OUR PEOPLE:
Interest in learning more about the lives of people with learning disabilities 
Non-judgmental attitude, appreciative of individual differences